Collect, analyze and activate your customer data with privacy-friendly analytics for ecommerce
Understand your audience and increase sales with a flexible platform consisting of Analytics, Tag Manager, Consent Manager and Customer Data Platform (CDP)
Key benefits:
Rich scope of product-related metrics and dimensions.
Access to raw and unsampled data.
Easy-to-use product interface and custom reports.
High-performing backend ready to handle more than one billion monthly actions.
Integrations with Google Ads, Looker Studio, Tableau, PowerBI, BigQuery, WooCommerce, and more.
Ability to create detailed customer segments and activate them in your favorite channels
.
Predefined settings for compliance with GDPR, TTDSG and other privacy laws.
Analyze and improve the customer journey across all digital touchpoints. See where your clients come from, what and how they buy, and where they drop off.
Act on these insights to provide them with personalized offers, optimize your marketing budget, boost sales and increase customer loyalty.
Sign up for a demo
This information will be used only to contact you. For details, see our privacy policy.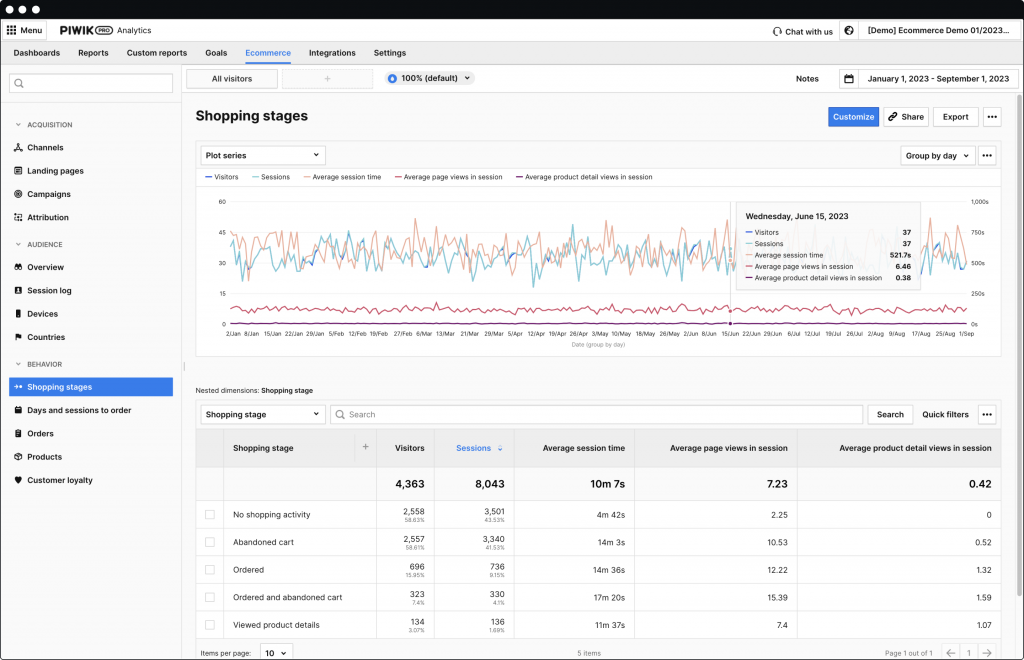 Product highlights
Fast implementation and ease of use
Choose a platform that is effortless to implement and use thanks to dedicated ecommerce tag templates, an intuitive UI and application of industry-standard concepts you know from tools such as Universal Analytics.
Fully-featured integrated analytics suite
Connect your analytics data with insights from other sources thanks to the built-in CDP
. Oversee your tags and visitor consents with Tag Manager and Consent Manager. Integrate with other tools in your stack to fully leverage your data.
Access to raw data and data layer
Customize your tracking with easy data layer configuration. Benefit from access to raw and unsampled data and export it to BI and data visualization software for further analysis.
The full customer journey
Capture all stages of the sales funnel – from traffic sources through shopping and checkout behavior to brand loyalty. Turn on anonymization to gather more data on the client journey and respect privacy.
Robust data activation features
Create detailed segments based on the client's behavior and characteristics. Send them to your favorite tools to personalize customer experience, promote your products, reduce cart abandonment and boost engagement with your brand.
Privacy compliance
Easily adhere to GDPR, CCPA, TTDSG and other laws thanks to privacy settings available in the product's interface. Choose from multiple hosting options, including EU-owned public and private cloud, and on-prem (your own subscription).
"Using Piwik PRO Analytics Suite for Sana Commerce Insights has enabled us to discover in great detail how our customers are using our platform. This has already helped us to optimize our user interface by discovering popular features to highlight."
Jan van Werkhoven
Head of Information Management at Sana Commerce
Brands that trust in Piwik PRO
Public institutions, private companies and enterprises trust us and value our privacy-oriented approach